SKU:
1677-1993
Klein Tools A-63050-EINS
Electricians Insulated Cable Cutter
1000V Rated for safety on the job. VDE Certified. Multi-colour, sleek design with small thumb guards for ease of handling and storage. Perfect for working in confined spaces. Precision, one-hand shearing action. Durable, moulded insulation meets IEC 60900 standards for insulated tools.
Enquiry about this product
Related Products
Klein Tools A-32259-INS
100mm VDE Insulated Screwdriver No. 2 Phillips Tip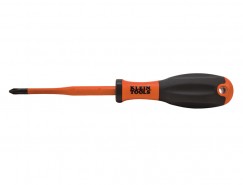 CES PV-CC
Klein Tools A-32258-INS
80mm VDE Insulated Screwdriver No. 1 Phillips Tip